अर्जुन उवाच |
कथं भीष्ममहं सङ्ख्ये द्रोणं च मधुसूदन |
इषुभि: प्रतियोत्स्यामि पूजार्हावरिसूदन || 4||
arjuna uvācha
kathaṁ bhīṣhmam ahaṁ sankhye droṇaṁ cha madhusūdana
iṣhubhiḥ pratiyotsyāmi pūjārhāvari-sūdana
arjunaḥ uvācha—Arjun said; katham—how; bhīṣhmam—Bheeshma; aham—I; sankhye—in battle; droṇam—Dronacharya; cha—and; madhu-sūdana—Shree Krishn, slayer of the Madhu demon; iṣhubhiḥ—with arrows; pratiyotsyāmi—shall I shoot; pūjā-arhau—worthy of worship; ari-sūdana—destroyer of enemies
Translation:
Arjuna Said: O Krishna! Bhishma and Drona are my teachers fit to be worshipped. How can I attack them with arrows in the battle?
Commentary:
---
We can understand from this how much reverence Arjuna had for his teachers though they happened to fight on the side of his enemies.
The various characters mentioned in the Bhagavad Gita symbolize the different psychological states with which a devotee is identified. When the devotee is identified with the restless mind, he is spoken of as being in the desireful "Duryodhana state," very difficult to control. The state in which the devotee is concentrated on the human instincts and the prenatal tendencies (samskaras) born of past-life habits is said to be the "Drona state." When the devotee forgets his true soul nature and is identified with all the circumscriptions of the mortal body, then he is in the ego or "Bhishma state."
Since our childhood, we have been living with our egos and habits which created a strong relationship. That's we always try to find excuses when we try to remove those bad habits. Because of this relationship with ego and habits from childhood we are always eager to attack the bad qualities of others but hesitate to work on our own weaknesses.
Bhagavad Gita: Chapter 2 🔻 (72 Verses)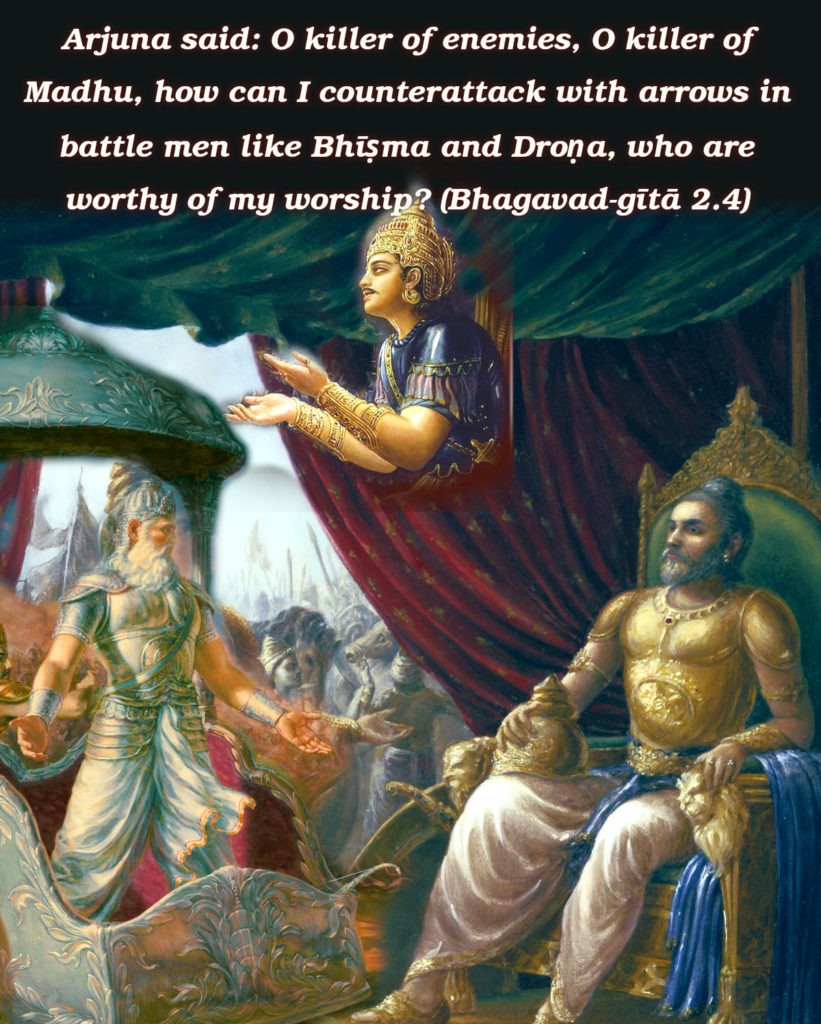 ❮ Previous
Next ❯