बन्धुरात्मात्मनस्तस्य येनात्मैवात्मना जित: |
अनात्मनस्तु शत्रुत्वे वर्ते तात्मैव शत्रुवत् || 6||
bandhur ātmātmanas tasya yenātmaivātmanā jitaḥ
anātmanas tu śhatrutve vartetātmaiva śhatru-vat
bandhuḥ—friend; ātmā—the mind; ātmanaḥ—for the person; tasya—of him; yena—by whom; ātmā—the mind; eva—certainly; ātmanā—for the person; jitaḥ—conquered; anātmanaḥ—of those with unconquered mind; tu—but; śhatrutve—for an enemy; varteta—remains; ātmā—the mind; eva—as; śhatru-vat—like an enemy
Translation:
For those who have conquered the mind, it is their friend. For those who have failed to do so, the mind works like an enemy.
Commentary:
The same idea as in the previous verse is elaborated here. Friend and foe are both inside man. The subdued mind is a friend, and the turbulent mind is the enemy. External friends or enemies are not so loyal or persistent as the conquered mind. The mind subdued and kept under control is the greatest friend to lead one to eternal peace. Even so, the turbulent mind poisoned with lust and greed leads to destruction. So control of the mind is essential for spiritual progress.The word Atma in this context refers to the mind including the senses and the bodily organs.
Mind conquered by the self: Man has to conquer the lower self by the higher self.
---
No two people see the same world…Some people who begin by saying that the world is a hell, often end by saying that it is a heaven, when they succeed in the practice of Self-Control.
If you can conserve and use the energy properly, it leads you to God. Inverted, it is hell itself. [Source]
— Swami Vivekananda
---
Vivekachudamani, Verses 172-174:
172. Clouds are brought in by the wind and again driven away by the same agency. Similarly, man's bondage is caused by the mind, and Liberation too is caused by that alone.
173. It (first) creates an attachment in man for the body and all other sense-objects, and binds him through that attachment like a beast by means of ropes. Afterwards, the selfsame mind creates in the individual an utter distaste for these sense-objects as if they were poison, and frees him from the bondage.
174. Therefore the mind is the only cause that brings about man's bondage or Liberation: when tainted by the effects of Rajas it leads to bondage, and when pure and divested of the Rajas and Tamas elements it conduces to Liberation.
---
Question: Who is a friend?
Answer: The subdued mind is a friend unto oneself.
Question: Who is a foe?
Answer: The turbulent mind is a foe unto oneself.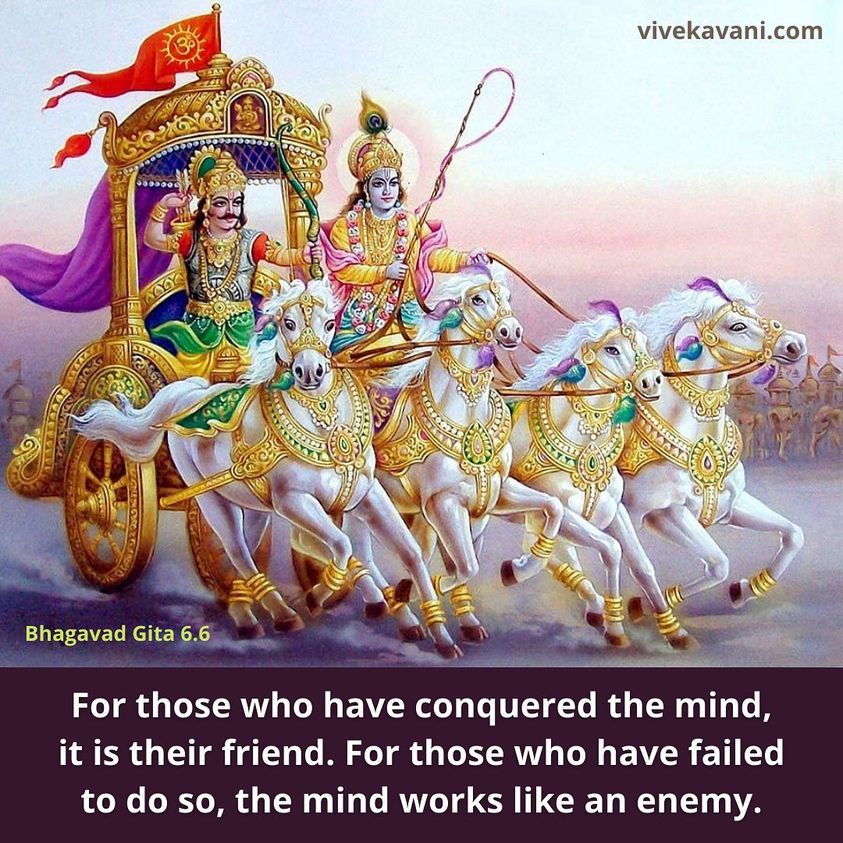 Bhagavad Gita: Chapter 6 🔻 (47 Verses)