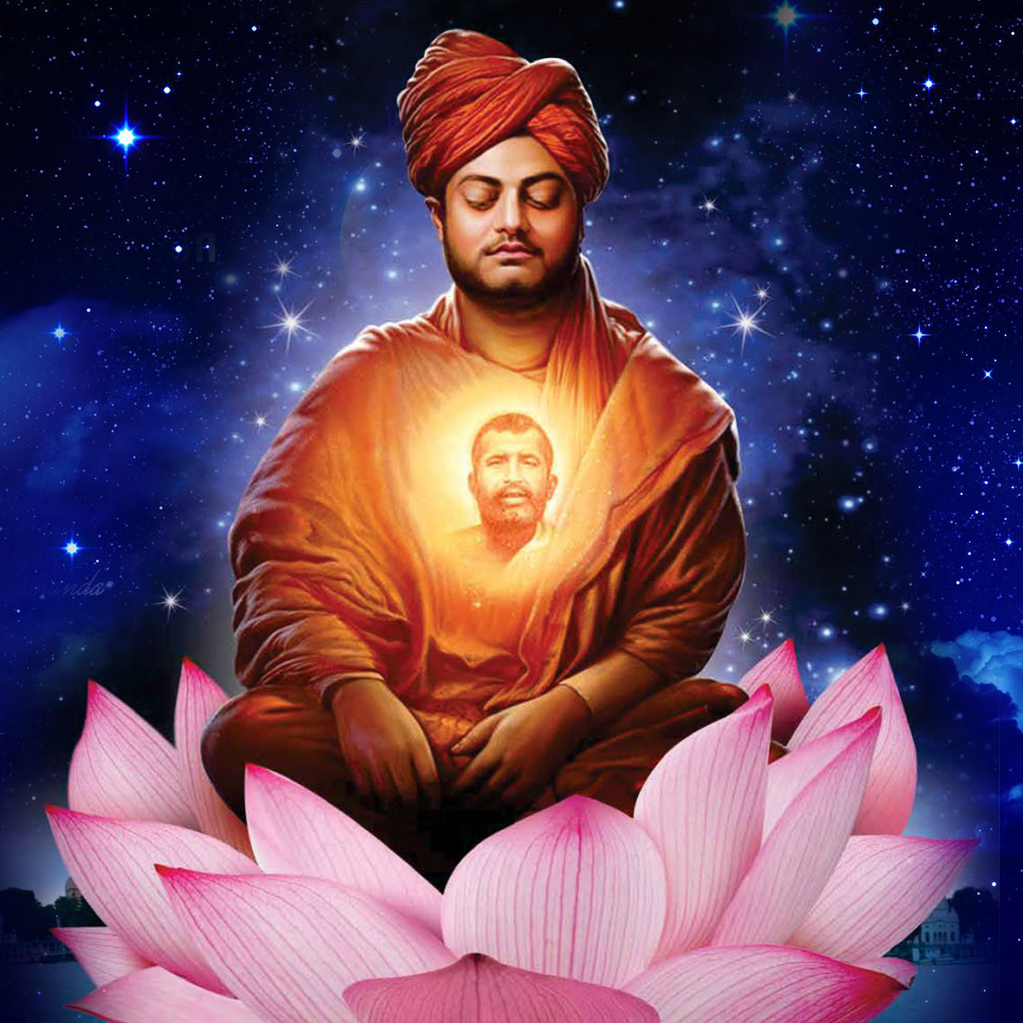 Righteous person is victorious everywhere.
The devotees were engaged in a game of golakdham. Hazra joined them. The Master stood by, watching them play. M. and Kishori reached "heaven." Sri Ramakrishna bowed before them and said, "Blessed are you two brothers." He said to M., aside, "Don't play anymore." Hazra fell into "hell." The Master said: "What is the matter with Hazra? Again!" No sooner had Hazra got out of "hell" than he fell into it again. All burst into laughter. The Master said: "This too has a meaning. Hazra is so vain that he thinks he will triumph over all even in this game. This is the law of God, that He never humiliates a righteous person. Such a man is victorious everywhere."
( Source: Gospel of Sri Ramakrishna, Page 735 )
Conversations with Swami Turiyananda
'No matter about philosophy, or even the Gita. The thing to do is to Know Mother. That is the whole of religion. Nothing else counts.' Then again, 'Take all your troubles to Mother. She will right all wrongs.'
'How will She right wrongs, Swami?' asked someone.
'By drawing you close to Her. When you know Mother, nothing else matters.'
'Will Mother really enter into the details of one's life?' another asked.
'Certainly—why not?'
'How?'
'By giving understanding. When you give yourself to Her, you will see everything in a new light. You will know that this life doesn't matter.'
( Source: Swami Turiyananda: His Life and Teachings, Page 72 )
Bhagavad Gita Story: Krishna and Balarama take care of devotee
Arjunacharya and his wife were very simple and humble devotees. They lived in a small hut and everyday after his morning duties, he used to go to village and beg for alms.
As a rule he used to visit only three houses and beg alms. He used to accept just enough alms for himself and his wife to live.
He was writing a commentary on Bhagavad Gita and everyday he spent hours reading and writing.
One day he was so engrossed in it that he forgot to go to village for getting food. Since it was already late afternoon, the ladies in the village were resting and there was no spare food even in single house. So he came back empty handed.
Once more he sat to read the Bhagavad Gita. In the ninth chapter verse 22, Lord Krishna says –
ananyaash cintayanto maam ye janaah paryupaasate
teshaam nityaabhiyuktaanaam yoga-kshemam vahaamy aham
"But those who always worship Me with exclusive devotion, meditating on My transcendental formto them I carry what they lack, and I preserve what they have."
Arjunacharya started thinking about the last words deeply and did not find them correct.
How could the Lord say, "vahamya aham" – I personally carry ?
He scratched the line – "yoga kshema vahaamyaham" and then he told his wife that he was going to river for a bath.
Meanwhile two boys ( Krishna and Balarama ) appeared and carried loads of rice, vegetables fruits and butter and handed it over to Arjunacharya's wife.
She was surprised and wonder-struck by their beautiful faces and so she asked them who they were.
They introduced themselves as disciples of her husband and that they have brought these provisions as per their order.
She was very thankful and happy that now can cook something for her hungry husband,
When the boys started leaving she saw the scars on the back of their bodies, she was shocked.
She asked them: Who has done this to you oh beautiful boys?
They told her that her husband makes them work very hard and if they did not obey he used to beat them.
She was not able to believe what they said. But she felt very sad for them and applied sandal wood paste on their backs to relieve the pain and they left immediately.
When Arjunacharya returned home his wife was very angry at him. She even didint wanted to speak to him.
Arjunacharya asked her : Why you do not want to speak to me? Have i hurt you?
' You are hurting small children!' replied his wife.
How? asked Arjunacharya.
When he heard what his wife told him, he was able to realise that the two boys were Krishna and Balaram.
He ran inside where his Bhagavad Gita was lying and could see that the pen marks on his shloka had vanished.
He started weeping for doubting the Lord's word and said,"Yogakshemam vaahamy aham ! It is true.
You do come personally to save the devotees. Oh ! Please forgive me".
His wife felt sad for not having recognized them, though she saw them face to face. But Arjunacharaya was very happy thinking how hsi wife has direct darshan of Krishna and Balarama.
Arjunacharaya consoled her and said, "Now I have understood that there is no difference between Lord Krishna and Bhagavad Gita. By screeching on Bhavgavad gita i was screeching body of the Lord Krishna. And Lord is truth , He takes care of His devotees. He personally carries what they have and provides what they lack" .
Then they began to chant and glorify the Lord.
God protects His true devotees
Sri Ramakrishna would explain to his devotees that God is truly merciful and would come to the rescue of his true devotees whenever they are in danger. But he would lay emphasis on the word "true". He would explain that a true devotee is one who relies on God totally. To illustrate the idea he used to narrate a story.
Once, Lakshmi and Narayana were seated in Vaikuntha, talking leisurely. But suddenly, Narayana stood up and was about to go somewhere. Lakshmi, who was stroking his feet, asked the Lord where he was going. Narayana answered that one of his devotees was in great danger and that he should rush immediately to protect him. With these words, he rushed out.
But he came back immediately within a few seconds. Lakshmi asked him, why he came back so soon. Narayana smiled and said, "The devotee was going along a road overwhelmed with love and devotion for me. Suddenly, a dog appeared from a bush nearby and started rushing towards the devotee barking wildly. I felt that it might bite him and so I felt that I must protect my devotee who depends solely on me.
As I was approaching the devotee, I saw him pick up a brick to throw at the dog. I felt that my presence was no longer needed there since the devotee was endeavoring to protect himself on his own. So I came back."
Thus Sri Ramakrishna would say that it requires enormous courage to depend on God in times of crisis. But time and again it has been proved and the history of mankind is replete with numerous instances of God coming to the rescue of his devotee under extremely trying circumstances.
In fact, true devotees are really put to test by God to find out whether they really depend on Him and only the sincere devotees pass this test.
Bhagavad Gita – Chapter 7 – Verse 21 & 22
Whatever may be the form a devotee seeks to worship with faith— in that form alone I make his faith unwavering.
Possessed of that faith, he worships that form and from it attains his desires, which are, in reality, granted by Me alone.