( Story told by Swami Vivekananda )
A disciple went to his master and said to him, "Sir, I want religion." The master looked at the young man, and did not speak, but only smiled. The young man came every day, and insisted that he wanted religion. But the old man knew better than the young man.
One day, when it was very hot, he asked the young man to go to the river with him and take a plunge. The young man plunged in, and the old man followed him and held the young man down under the water by force. After the young man had struggled for a while, he let him go and asked him what he wanted most while he was under the water. "A breath of air", the disciple answered. "Do you want God in that way? If you do, you will get Him in a moment," said the master. Until you have that thirst, that desire, you cannot get religion, however you may struggle with your intellect, or your books, or your forms. Until that thirst is awakened in you, you are no better than any atheist; only the atheist is sincere, and you are not.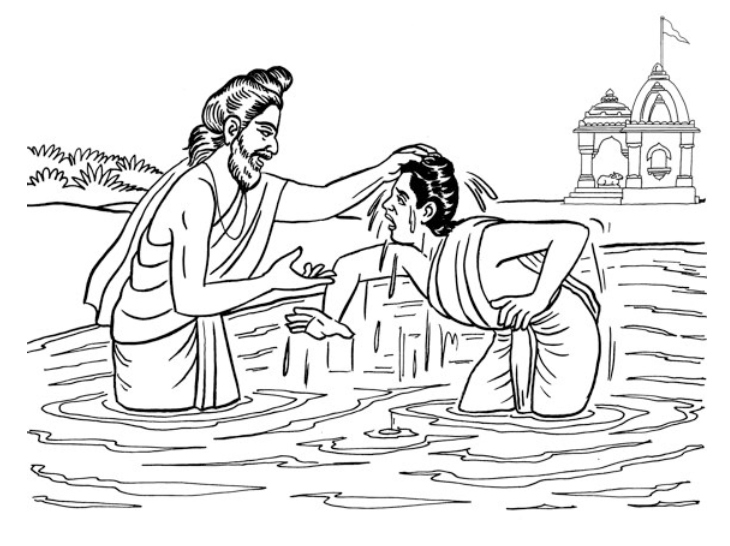 A great sage used to say, "Suppose there is a thief in a room, and somehow he comes to know that there is a vast mass of gold in the next room, and that there is only a thin partition between the two rooms What would be the condition of that thief? He would be sleepless, he would not be able to eat or do anything. His whole mind would be on getting that gold. Do you mean to say that, if all these people really believed that the Mine of Happiness, of Blessedness, of Glory were here, they would act as they do in the world, without trying to get God?"
As soon as a man begins to believe there is a God, he becomes mad with longing to get to Him. Others may go their way, but as soon as a man is sure that there is a much higher life than that which he is leading here, as soon as he feels sure that the senses are not all, that this limited, material body is as nothing compared with the immortal, eternal, undying bliss of the Self, he becomes mad until he finds out this bliss for himself. And this madness, this thirst, this mania, is what is called the "awakening" to religion, and when that has come, a man is beginning to be religious.
Source : The Complete Works of Swami Vivekananda/Volume 2/Bhakti or Devotion
See Also :