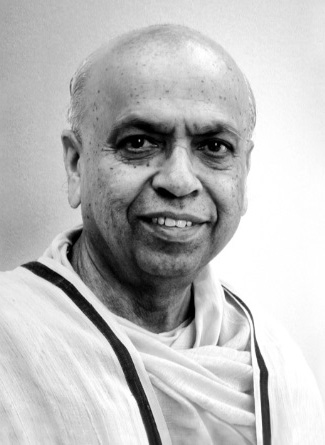 Born in Karnataka State, South India, on October 21, 1929, he became a monk of the Ramakrishna Order of India in his early twenties. Attracted by the universal teachings of Vedanta which affirms that all religions lead to the same Truth and that the essence of all beings and all things is Spirit, the swami dedicated his life to the Ramakrishna Order's motto: "For one's own enlightenment and for the good of the world."

Before coming to this country in 1970, he was president of the Bangalore Ramakrishna Ashrama, a large branch center of the Ramakrishna Order in South India.

Over the last forty-four years, he contributed enormously to the growth of the Society. Most notable among his many accomplishments are: the establishment of both men's and women's retreat houses at the Vedanta Retreat at Olema, Marin County, open to spiritual seekers of any faith or path; a tradition of over thirty-five years of holding an annual Memorial Day interfaith program at the Vedanta Retreat open to the public; the building of a new addition to the San Francisco temple which doubled its original size adding much-needed facilities, including a spacious multipurpose room, many offices, rooms for worship preparation, as well as a beautiful library; and establishing a bookshop with a comprehensive collection on Eastern and Western religions and philosophies. Recently, he approved an extensive renovation of the historic Old Temple built in 1905, which is to begin imminently.

Highly regarded in the spiritual community, he was active in interfaith activities, and spoke at various schools and colleges, as well as at the temple to various classes, some coming annually from so far away as Oregon and Mississippi.

In addition to conducting weekly services, the swami untiringly counseled innumerable spiritual seekers enriching their spiritual lives by his wise and deeply insightful guidance and calm presence.
Swami Prabuddhananda, minister in charge of the Vedanta Society of Northern California, San Francisco, passed away very peacefully on July 2, 2014, at the age of 84. He had been seriously ill for the past three years but had continued to direct the activities of the Society.