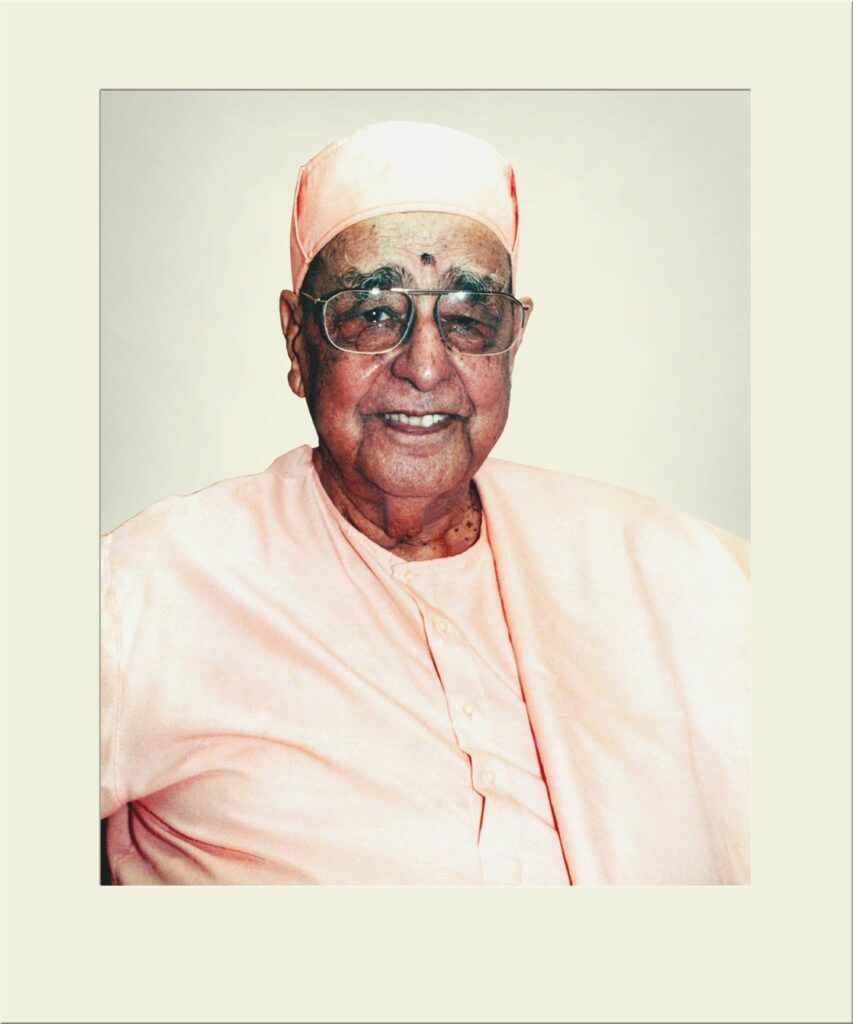 (Kanai Maharaj, 1909-98)
Distinguished, internationally famed monk of the Order, a born educationist, with many achievements to his credit. Pre-monastic name Shivapada Banerjee, second son of Basantakumar and Shikharbasini Devi, born on 19.4.1909 in maternal uncle's house at Kenragachi village in Khulna district (presently in Bangladesh). Paternal home in Talmagura village of Satkhira sub-division. Matriculated from Lalmanirhat School in Rangpur (1927) and graduated from Bangabasi College in Calcutta. (1931).As a college student joined the freedom movement and served a prison term. Initiated by Swami Shivananda (1927), received vows of brahmacharya from Swami Vijnanananda and ordained into sannyasa by Swami Virajananda (1944). Joined the Order (1933) and sent to Cheduba in the then Burma as the leader of a group of relief-workers. With a sympathetic approach, conquered the hearts of savage criminals belonging to a remote island. Tireless service as relief-worker in Orissa, Bangladesh, Calcutta and Bhangamora (near Arambagh).
A visionary with rare practical wisdom, contributed to the growth of the Deoghar Vidyapith, Shillong Ashrama and the school at Cherrapunji. After a stint at Mayavati Advaita Ashrama joined the Pathuriaghata Students' Home (1946), resuscitated it with ceaseless toil and struggle relocating it to Narendrapur where it developed into an internationally acclaimed multidimensional educational institution (1958). With the Narendrapur Ashrama as the nucleus, set up several other institutions, the Blind Boys' Academy and the Lokashiksha Parishad for all-round uplift of the rural poor.
The crisis-ridden Ramakrishna Mission Institute of Culture going through turbulent times, was given in his charge as Secretary (1973-1998). Masterly handling of the situation followed by outstanding development of the centre during his tenure of 25 years till his death at Kothari Medical Centre on 31.12.98 at the age of 89. Another achievement at this time was the model housing for slum-dwellers that came up in the notorious Rambagan area of North Calcutta.
Convener of the second Great Convention of the Ramakrishna Mission (1980); Convener of Chicago Parliament Centenary Committee (1993-94); Convener of the Centenary Celebrations of the founding of the Ramakrishna Mission (199798). Instrumental in founding the Vedanta Centre at Moscow (1988).
A great scholar and orator, travelled in almost all the major countries of the West and delivered lectures at Oxford, Cambridge, Sorbonne, Humboldt, Berlin and other universities. Delegate at numerous international educational and peace conferences.
A prolific writer, major works include: Practical Spirituality, Religion and Culture, Letters for Spiritual Seekers, Tava Kathamritam (Bengali), translations of nine Upanishads (English, Bengali). Edited Shatarupe Sarada, Chintanayak Vivekananda.
Related Articles: