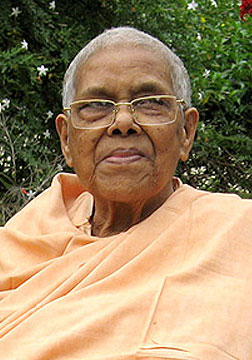 Pravrajika Shraddhaprana Mataji was the third President of Sri Sarada Math and Ramakrishna Sarada Mission. She took her office on 17th November 1999, the day of Jagaddhatri Puja.
Born in Patna in 1918 of parents Mathuranath Sinha and Sushila Sinha, she was named Lakshmi. Her father had seen Sri Ramakrishna and had met Swami Vivekananda.
She received initiation into spiritual life in 1941. Shraddhaprana Mataji is a disciple of Swami Virajananda the 6th President of the Ramakrishna Math and Ramakrishna Mission. Before joining the Sister Nivedita Girls' School in 1948, she was a lecturer in the Annie Besant College, Varanasi. In Nivedita School she served as the Asst. Head Mistress and Asst. Secretary till 1955 when she became the Headmistress till 1968 and Secretary till March 1986. In 1953 she took the vow of Bramacharya along with six others and received Sannyasa along with seven others ( the first batch of Sannyasinis of the Ramakrishna Order) from Swami Sankarananda, the then President, at Belur Math.
When Sri Sarada Math was given independent status in 1959, she became one of its trustees and in 1960 she was appointed as Assistant Secretary of Sri Sarada Math and Ramakrishna Sarada Mission. She came to live in Sri Sarada Math in April 1986. After the passing away of Pravrajika Muktiprana in 1994, she was elected as the second General Secretary. She held this office till 17 November 1999.