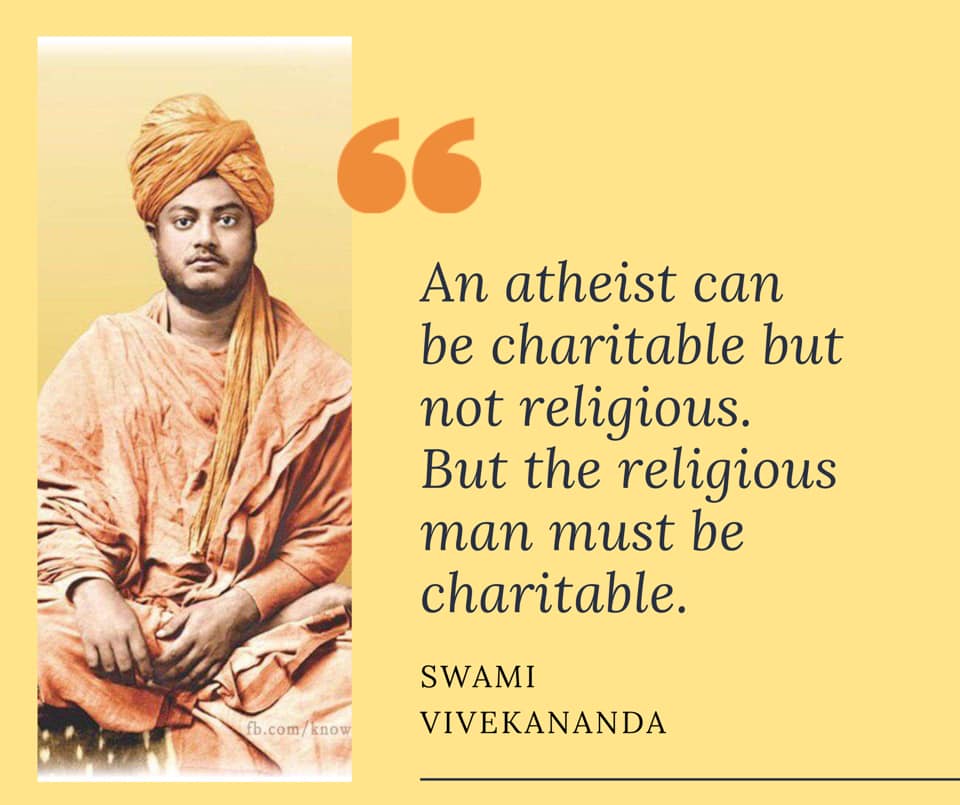 This article is on Swami Vivekananda's quotes and comments on charity. Related articles are listed at the bottom of this page.

An atheist can be charitable but not religious. But the religious man must be charitable.[Source]
Buddha taught kindness towards lower beings; and since then there has not been a sect in India that has not taught charity to all beings, even to animals. This kindness, this mercy, this charity — greater than any doctrine — are what Buddhism left to us.[Source]
Charity never faileth.[Source]
Charity opens the heart.[Source]
Dâna, charity. There is no higher virtue than charity. The lowest man is he whose hand draws in, in receiving; and he is the highest man whose hand goes out in giving. The hand was made to give always. Give the last bit of bread you have even if you are starving. You will be free in a moment if you starve yourself to death by giving to another. Immediately you will be perfect, you will become God.[Source]
Every act of charity, every thought of sympathy, every action of help, every good deed, is taking so much of self-importance away from our little selves and making us think of ourselves as the lowest and the least, and, therefore, it is all good. Here we find that Jnâna, Bhakti, and Karma — all come to one point.[Source]
Every time you think of doing some charity, you think there is some beggar to take your charity. If you say, "O Lord, let the world be full of charitable people!" — you mean, let the world be full of beggars also. Let the world be full of good works – let the world be full of misery. This is out-and-out slavishness![Source]
Have charity towards all beings. Pity those who are in distress. Love all creatures. Do not be jealous of anyone. Look not to the faults of others.[Source]
Love and charity for the whole human race, that is the test of true religiousness.[Source]
Mark, therefore, the ordinary theory of practical religion, what it leads to. Charity is great, but the moment you say it is all, you run the risk of running into materialism. It is not religion. It is no better than atheism – a little less.[Source]
No civilisation can grow unless fanatics, bloodshed, and brutality stop. No civilisation can begin to lift up its head until we look charitably upon one another; and the first step towards that much-needed charity is to look charitably and kindly upon the religious convictions of others. Nay more, to understand that not only should we be charitable, but positively helpful to each other, however different our religious ideas and convictions may be.[Source]
Religion has become to many merely a means of doing a little charity work, just to amuse them after a hard day's labour — they get five minutes religion to amuse them. This is the danger with the liberal thought.[Source]
Seek no praise, no reward, for anything you do. No sooner do we perform a good action than we begin to desire credit for it. No sooner do we give money to some charity than we want to see our names blazoned in the papers. Misery must come as the result of such desires.[Source]
Test everything, try everything, and then believe it, and if you find it for the good of many, give it to all.[Source]
The guiding motive of mankind should be charity towards men, charity towards all animals.[Source]
The Jivanmukta ('the living free' or one who knows) alone is able to give real love, real charity, real truth, and it is truth alone that makes us free.[Source]
There is another way in which this idea of mercy and selfless charity can be put into practice; that is, by looking upon work as "worship" in case we believe in a Personal God. Here we give up all the fruits our work unto the Lord, and worshipping Him thus, we have no right to expect anything from man kind for the work we do.[Source]
This idea of charity is going out of India; great men are becoming fewer and fewer. When I was first learning English, I read an English story book in which there was a story about a dutiful boy who had gone out to work and had given some of his money to his old mother, and this was praised in three or four pages. What was that? No Hindu boy can ever understand the moral of that story. Now I understand it when I hear the Western idea — every man for himself. And some men take everything for themselves, and fathers and mothers and wives and children go to the wall. That should never and nowhere be the ideal of the householder.[Source]
Those who are acquainted with the literature of India will remember a beautiful old story about this extreme charity, how a whole family, as related in the Mahâbhârata, starved themselves to death and gave their last meal to a beggar. This is not an exaggeration, for such things still happen.[Source]
We have all been hearing from childhood of such things as love, peace, charity, equality, and universal brotherhood; but they have become to us mere words without meaning, words which we repeat like parrots, and it has become quite natural for us to do so. We cannot help it.[Source]
We hear all around us about practical religion, and analysing all that, we find that it can be brought down to one conception — charity to our fellow beings.[Source]
We may convert every house in the country into a charity asylum, we may fill the land with hospitals, but the misery of man will still continue to exist until man's character changes.
We must inform our minds that no one in this universe depends upon us; not one beggar depends on our charity; not one soul on our kindness; not one living thing on our help. All are helped on by nature, and will be so helped even though millions of us were not here. The course of nature will not stop for such as you and me; it is, as already pointed out, only a blessed privilege to you and to me that we are allowed, in the way of helping others, to educate ourselves. This is a great lesson to learn in life, and when we have learned it fully, we shall never be unhappy; we can go and mix without harm in society anywhere and everywhere.[Source]
We see many persons talking the most wonderfully fine things about charity and about equality and the rights of other people and all that, but it is only in theory. I was so fortunate as to find one who was able to carry theory into practice. He had the most wonderful faculty of carrying everything into practice which he thought was right. (on Ramakrishna)[Source]
What good being object of charity?
Give away, ne'er turn to ask in return,
Should there be the wealth treasured in thy heart.[Source]
What is meant by charity? Charity is not fundamental. It is really helping on the misery of the world, not eradicating it. One looks for name and fame and covers his efforts to obtain them with the enamel of charity and good works. He is working for himself under the pretext of working for others. Every so-called charity is an encouragement of the very evil it claims to operate against.[Source]
You must also remember that the world has God to govern it, and He has not left it to our charity. The Lord God is its Governor and Maintainer, and in spite of these wine fanatics and cigar fanatics, and all sorts of marriage fanatics, it would go on. If all these persons were to die, it would go on none the worse.[Source]
Three kinds of charity according to Bhagavad Gita
Excerpt from Complete Works, Volume: IX—[Source]
The Gitâ says that there are three kinds of charity: the Tâmasic, the Râjasic and the Sâttvic. Tamasic charity is performed on an impulse. It is always making mistakes. The doer thinks of nothing but his own impulse to be kind. Rajasic charity is what a man does for his own glory. And Sattvic charity is that which is given to the right person, in the right way, and at the proper time.
Related Articles: