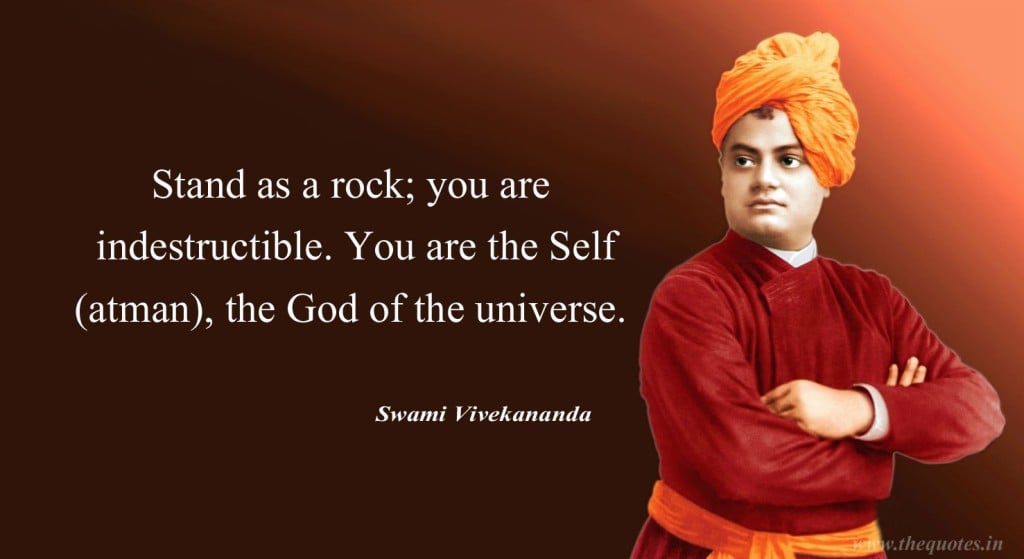 Do not underestimate yourself
Swami Vivekananda recommend—
All knowledge is within us. All perfection is there already in the soul. But this perfection has been covered up by nature; layer after layer of nature is covering this purity of the soul. What have we to do? Really we do not develop our souls at all. What can develop the perfect? We simply take the evil off; and the soul manifests itself in its pristine purity, its natural, innate freedom.[Source]
All power is within you; you can do anything and everything. Believe in that; do not believe that you are weak; do not believe that you are half-crazy lunatics as most of us believe now-a-days. You can do anything and everything, without even the guidance of any one.[Source]
All the powers in the universe are already ours. It is we who have put our hands before our eyes and cry that it is dark. Know that there is no darkness around us. Take the hands away and there is the light which was from the beginning. Darkness never existed, weakness never existed. We who are fools cry that we are weak; we who are fools cry that we are impure.[Source]
If you can think that infinite power, infinite knowledge and indomitable energy lie within you, and if you can bring out that power, you also can become like me.[Source]
Man is born to conquer nature and not to follow it. [Source]
We are the children of the Almighty, we are sparks of the infinite, divine fire. How can we be nothings? We are everything, ready to do everything, we can do everything, and man must do everything.
Be brave, be strong
Be brave and be sincere; then follow any path with devotion, and you must reach the Whole. Once lay hold of one link of the chain, and the whole chain must come by degrees.[Source]
Be not afraid, for all great power throughout the history of humanity has been with the people. From out of their ranks have come all the greatest geniuses of the world, and history can only repeat itself. Be not afraid of anything. You will do marvellous work.[Source]
Be strong, my young friends; that is my advice to you. You will be nearer to Heaven through football than through the study of the Gita. These are bold words; but I have to say them, for I love you. I know where the shoe pinches.
Bear in mind, my children, that only cowards and those who are weak commit sin and tell lies. The brave are always moral. Try to be moral, try to be brave, try to be sympathizing.[Source]
Bold words and bolder deeds are what we want. Awake, awake, great ones! The world is burning with misery. Can you sleep? Let us call and call till the sleeping gods awake, till the God within answers to the call. What more is in life? What greater work?
Courage! Everything will come about by degrees. From all of you I want this that you must discard for ever self-aggrandisement, faction-mongering, and jealousy. You must be all-forbearing, like Mother Earth. If you can achieve this, the world will be at your feet.[Source]
Cowards only sin, brave men never, no, not even in mind.
He is an atheist who does not believe in himself. The old religions said that he was an atheist who did not believe in God. The new religion says that he is an atheist who does not believe in himself.
I hate cowardice; I will have nothing to do with cowards or political nonsense. I do not believe in any politics. God and truth are the only politics in the world, everything else is trash.
If you are really my children, you will fear nothing, stop at nothing. You will be like lions. We must rouse India and the whole world. No cowardice. I will take no nay. Do you understand?[Source]
It is the coward and the fool who says, This is my fate – so says the Sanskrit proverb. But it is the strong man who stands up and says, I will make my own fate. It is people who are getting old who talk of fate. Young men generally do not come to astrology.
Know that every time you feel weak, you not only hurt yourself but also the cause. Infinite faith and strength are the only conditions of success.
Know you are the Infinite, then fear must die. Say ever, "I and my Father are one."[Source]
My sons, all of you be men. This is what I want! If you are even a little successful, I shall feel my life has been meaningful.[Source]
Do not worry about obstacles or criticism
All great undertakings are achieved through mighty obstacles.— You valiant one, put forth your manly efforts; Wretched people under the grip of lust and gold deserve to be looked upon with indifference.[Source]
Are great things ever done smoothly? Time, patience, and indomitable will must show.[Source]
Despair not; remember the Lord says in the Gita, "To work you have the right, but not to the result." Gird up your loins, my boy. I am called by the Lord for this. I have been dragged through a whole life full of crosses and tortures, I have seen the nearest and dearest die, almost of starvation; I have been ridiculed, distrusted, and have suffered for my sympathy for the very men who scoff and scorn. Well, my boy, this is the school of misery, which is also the school for great souls and prophets for the cultivation of sympathy, of patience, and, above all, of an indomitable iron will which quakes not even if the universe be pulverised at our feet.[Source]
Every work has got to pass through hundreds of difficulties before succeeding. Those that persevere will see the light, sooner or later.[Source]
Let people say whatever they like, stick to your own convictions, and rest assured, the world will be at your feet. They say, 'Have faith in this fellow or that fellow', but, I say, 'Have faith in yourself first'. that's the way.[Source]
Pay no attention whatsoever to newspaper nonsense or criticism. Be sincere and do your duty. Everything will come all right. Truth must triumph. 
Have patience
Main article: Swami Vivekananda's quotes on patience and perseverance

Wait, my child, wait and work on. Patience, patience.[Source]
Wait with patience and love and strength. If helpers are not ready now, they will come in time. Why should we be in a hurry? The real working force of all great work is in its almost unperceived beginnings.[Source]
Go on bravely
Go on bravely. Do not expect success in a day or a year. Always hold on to the highest. Be steady. Avoid jealousy and selfishness. Be obedient and eternally faithful to the cause of truth, humanity, and your country, and you will move the world.
Go on bravely — never mind about designs and other details at present — "With the horse will come the reins". Work unto death — I am with you, and when I am gone, my spirit will work with you. This life comes and goes — wealth, fame, enjoyments are only of a few days. It is better, far better to die on the field of duty, preaching the truth, than to die like a worldly worm. Advance![Source]
I want each one of my children to be a hundred times greater than I could ever be. Everyone of you must be a giant— must, that is my word. Obedience, readiness, and love for the cause— if you have these three, nothing can hold you back.[Source]
We are the children
of the Almighty,
we are sparks of the infinite,
divine fire.
How can we be nothings?
We are everything,
ready to do everything,
we can do everything,
and man must do everything.
—Swami Vivekananda
And finally…