Swami Vivekananda was a follower and proponent of Vedanta which mentions one God — omnipresent, omnipotent, omniscient. On 19 September 1893 Swami Vivekananda delivered a lecture at the Parliament of the World's Religions, Chicago, where he talked about nature of God. He told—He is everywhere, the pure and formless One, the Almighty and the All-merciful. "Thou art our father, Thou art our mother, Thou art our beloved friend, Thou art the source of all strength; give us strength. Thou art He that beareth the burdens of the universe; help me bear the little burden of this life." Thus sang the Rishis of the Vedas. And how to worship Him? Through love. "He is to be worshipped as the one beloved, dearer than everything in this and the next life."He also told—[Source]

Who is Ishvara? Janmâdyasya yatah — "From whom is the birth, continuation, and dissolution of the universe," — He is Ishvara — "the Eternal, the Pure, the Ever-Free, the Almighty, the All-Knowing, the All-Merciful, the Teacher of all teachers"; and above all, Sa Ishvarah anirvachaniya-premasvarupah — "He the Lord is, of His own nature, inexpressible Love."
In this article we'll make a list of Swami Vivekananda's quotes and comments on God.

Swami Vivekananda's Quotes on God
Swami Vivekananda told—(quotes arranged in alphabetical order)
Swami Vivekananda's notes
Excerpts from the notes taken down in Madras, 1892–1893:[Source]
The three essentials of Hinduism are belief in God, in the Vedas as revelation, in the doctrine of Karma and transmigration.
Extremely nervous men succeed as religious men. They become fervent over whatever they take into their head. "All are mad in this world; some are mad after gold, others after women, and some are after God; if drowning is to be the fate of man, it is better to be drowned in an ocean of milk than in a pool of dung", a devotee replied who was charged with madness.
The God of Infinite Love and the object of Love sublime and infinite are painted blue. Krishna is painted blue, so also Solomon's God of Love. It is a natural law that anything sublime and infinite is associated with blue colour. Take a handful of water, it is absolutely colourless. But look at the deep wide ocean; it is as blue as anything. Examine the space near you; it is colourless. But look at the infinite expanse of the sky; it is blue.
The whole universe is one chain of existence, of which matter forms one pole and God the other; the doctrine of Vishishtadvaitism may be explained by some such ideas.
A pious missionary went out on business. All of a sudden his three sons died of cholera. His wife covered the three dead bodies of her beloved children with a sheet and was awaiting her husband at the gate. When he returned, she detained him at the gate and put him the question, "My dear husband, some one entrusts something to you and in your absence suddenly takes it back. Will you feel sorry?" He replied, "Certainly I would not". Then she took him in, removed the sheet and showed the three corpses. He bore this calmly and buried the bodies. Such is the strength of mind of those who hold firm faith in the existence of an all-merciful God who disposes of everything in the universe.
The Absolute can never be thought of. We can have no idea of a thing unless it is finite. God the infinite can only be conceived and worshipped as the finite.
The one thing unchangeable is God. Society is moving.
Jagat (world) means that which is moving. God is Achala (immovable).
The best scenery in the world can be seen on the sublime heights of the Himalayas. If one lives there for a time, he is sure to have mental calmness, however restless he might have been before. God is the highest form of generalised law. When once this law is known, all others can be explained as being subordinate to it. God is to religion what Newton's law of gravity is to falling bodies.
Loving only the good in God and nature—even a child does that. You should love the terrible and the painful as well. A father loves the child, even when he is giving him trouble.
Virtue is that which tends to our improvement, and vice to our degeneration. Man is made up of three qualities—brutal, human, and godly. That which tends to increase the divinity in you is virtue, and that which tends to increase brutality in you is vice. You must kill the brutal nature and become human, that is, loving and charitable. You must transcend that too and become pure bliss, Sachchidananda, fire without burning, wonderfully loving, but without the weakness of human love, without the feeling of misery.
Men can become Brahman but not God. If anybody becomes God, show me his creation. Vishvamitra's creation is his own imagination. It should have obeyed Vishvamitra's law. If anybody becomes a Creator, there would be an end of the world, on account of the conflict of laws. The balance is so nice that if you disturb the equilibrium of one atom, the whole world will come to an end.
In God all natures are possible. But we can see Him only through human nature. We can love Him as we love a man—as father, son. The strongest love in the world is that between man and woman, and that also when it is clandestine. This is typified in the love between Krishna and Radha.
You cannot injure anybody and sit quietly. It is a wonderful machinery—you cannot escape God's vengeance.
In the same man the mother sees a son, while the wife at the same time sees differently with different results. The wicked see in God wickedness. The virtuous see in Him virtue. He admits of all forms. He can be moulded according to the imagination of each person. Water assumes various shapes in various vessels. But water is in all of them. Hence all religions are true.
God is cruel and not cruel. He is all being and not being at the same time. Hence He is all contradictions. Nature also is nothing but a mass of contradictions.
If you wish to become a saint, you should renounce all kinds of pleasures. Ordinarily, you may enjoy all, but pray to God for guidance, and He will lead you on.
We cannot imagine anything which is not God. He is all that we can imagine with our five senses, and more. He is like a chameleon; each man, each nation, sees one face of Him and at different times, in different forms. Let each man see and take of God whatever is suitable to him. Compare each animal absorbing from nature whatever food is suitable to it.
The highest Advaitism cannot be brought down to practical life. Advaitism made practical works from the plane of Vishishtadvaitism. Dvaitism—small circle different from the big circle, only connected by Bhakti; Vishishtadvaitism—small circle within big circle, motion regulated by the big circle; Advaitism—small circle expands and coincides with the big circle. In Advaitism "I" loses itself in God. God is here, God is there, God is "I".
Why we worship God(s)?
Desire is infinite. Its fulfilment is very limited.. There is no end to our desires; but when we go to fulfil them, the difficulty comes. It has been so with the most primitive minds, when their desires were [few]. Even [these] could not be accomplished. Now, with our arts and sciences improved and multiplied, our desires cannot be fulfilled [either]. On the other hand, we are struggling to perfect means for the fulfilment of desires, and the desires are increasing…
The most primitive man naturally wanted help from outside for things which he could not accomplish. …He desired something, and it could not be obtained. He wanted help from other powers. The most ignorant primitive man and the most cultivated man today, each appealing to God and asking for the fulfilment of some desire, are exactly the same. What difference? [Some people] find a great deal of difference. We are always finding much difference in things when there is no difference at all. Both [the primitive man and the cultivated man] plead to the same [power]. You may call it God or Allah or Jehovah. Human beings want something and cannot get it by their own powers, and are after someone who will help them. This is primitive, and it is still present with us.[Source]
Man alone becomes God
In August 1895, ia letter written to Mrs Bull, Vivekananda wrote—[Source]

The older I grow, the more I see behind the idea of the Hindus that man is the greatest of all beings. So say the Mohammedans too. The angels were asked by Allah to bow down to Adam. Iblis did not, and therefore he became Satan. This earth is higher than all heavens; this is the greatest school in the universe; and the Mars or Jupiter people cannot be higher than we, because they cannot communicate with us. The only so-called higher beings are the departed, and these are nothing but men who have taken another body. This is finer, it is true, but still a man-body, with hands and feet, and so on. And they live on this earth in another Âkâsha, without being absolutely invisible. They also think, and have consciousness, and everything else like us. So they also are men, so are the Devas, the angels. But man alone becomes God; and they all have to become men again in order to become God.
Theorising about God will not do. . .
From Inspired Talks—[Source]
Theorising about God will not do; we must love and work. Give up the world and all worldly things, especially while the "plant" is tender. Day and night think of God and think of nothing else as far as possible. The daily necessary thoughts can all be thought through God. Eat to Him, drink to Him, sleep to Him, see Him in all. Talk of God to others; this is most beneficial.
Get the mercy of God and of His greatest children: these are the two chief ways to God. The company of these children of light is very hard to get; five minutes in their company will change a whole life; and if you really want it enough, one will come to you. The presence of those who love God makes a place holy, "such is the glory of the children of the Lord". They are He; and when they speak, their words are scriptures. The place where they have been becomes filled with their vibrations, and those going there feel them and have a tendency to become holy also.
How should we love God?
The Bhagavad Gita suggests to work incessantly but without any desire. Swami Vivekananda asked to love God for love's sake. He told—It is good to love God for hope of reward in this or the next world, but it is better to love God for love's sake, and the prayer goes: "Lord, I do not want wealth, nor children, nor learning. If it be Thy will, I shall go from birth to birth, but grant me this, that I may love Thee without the hope of reward — love unselfishly for love's sake." One of the disciples of Krishna, the then Emperor of India, was driven from his kingdom by his enemies and had to take shelter with his queen in a forest in the Himalayas, and there one day the queen asked him how it was that he, the most virtuous of men, should suffer so much misery. Yudhishthira answered, "Behold, my queen, the Himalayas, how grand and beautiful they are; I love them. They do not give me anything, but my nature is to love the grand, the beautiful, therefore I love them. Similarly, I love the Lord. He is the source of all beauty, of all sublimity. He is the only object to be loved; my nature is to love Him, and therefore I love. I do not pray for anything; I do not ask for anything. Let Him place me wherever He likes. I must love Him for love's sake. I cannot trade in love."[Source]
Stick to God
In a letter written to Hale Sisters on 31 July 1894, Vivekananda suggested them—Stick to God! Who cares what comes to the body or to anything else! Through the terrors of evil, say — my God, my love! Through the pangs of death, say — my God, my love! Through all the evils under the sun, say — my God, my love! Thou art here, I see Thee. Thou art with me, I feel Thee. I am Thine, take me. I am not of the world's but Thine, leave not then me. Do not go for glass beads leaving the mine of diamonds! This life is a great chance. What, seekest thou the pleasures of the
world? — He is the fountain of all bliss. Seek for the highest, aim at that highest, and you shall reach the highest.
He who wants to love God…
While discussing the preparation of Bhakti Yoga, Vivekananda told—[Source]He who wants to love God must get rid of extreme desires, desire nothing except God. This world is good so far as it helps one to go to the higher world. The objects of the senses are good so far as they help us to attain higher objects. We always forget that this world is a means to an end, and not an end itself. If this were the end we should be immortal here in our physical body; we should never die. But we see people every moment dying around us, and yet, foolishly, we think we shall never die; and from that conviction we come to think that this life is the goal. That is the case with ninety-nine per cent of us. This notion should be given up at once. This world is good so far as it is a means to perfect ourselves; and as soon as it has ceased to be so, it is evil. So wife, husband, children, money and learning, are good so long as they help us forward; but as soon as they cease to do that, they are nothing but evil. If the wife help us to attain God, she is a good wife; so with a husband or a child. If money help a man to do good to others, it is of some value; but if not, it is simply a mass of evil, and the sooner it is got rid of, the better.
What happens when someone attains perfection?
… what becomes of a man when he attains perfection? He lives a life of bliss infinite. He enjoys infinite and perfect bliss, having obtained the only thing in which man ought to have pleasure, namely God, and enjoys the bliss with God.[Source]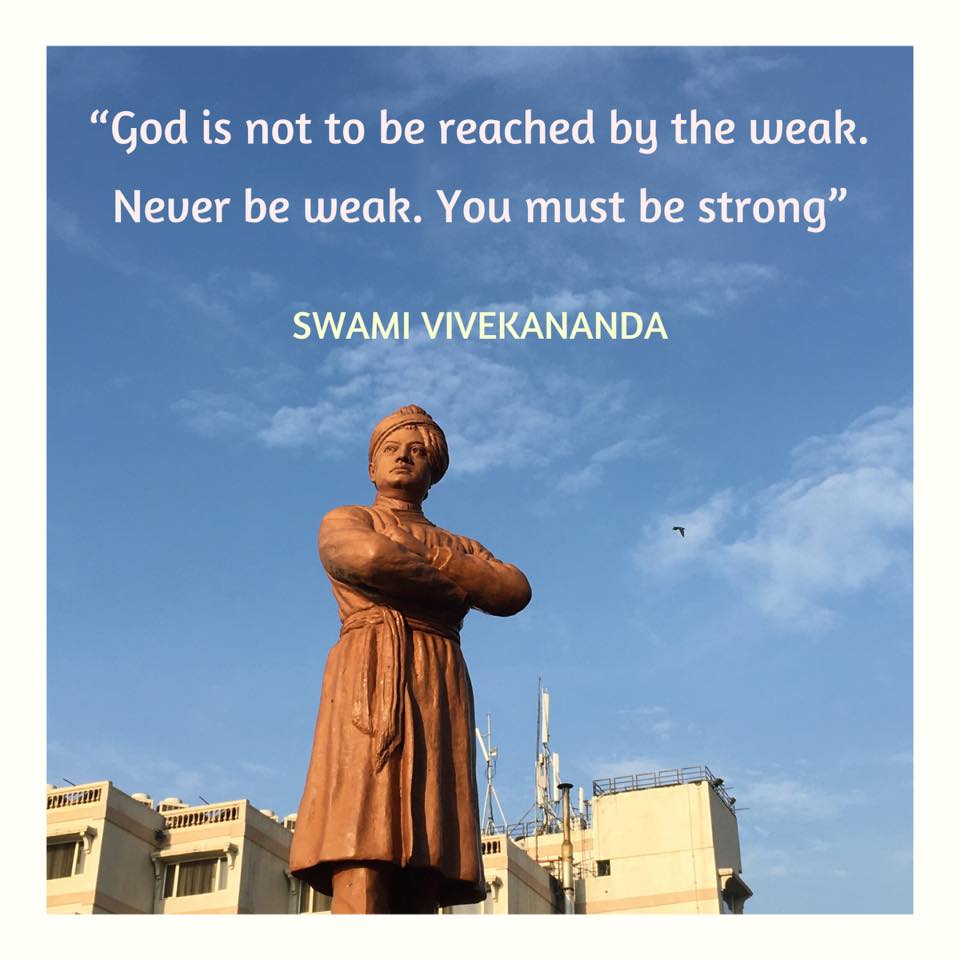 See also