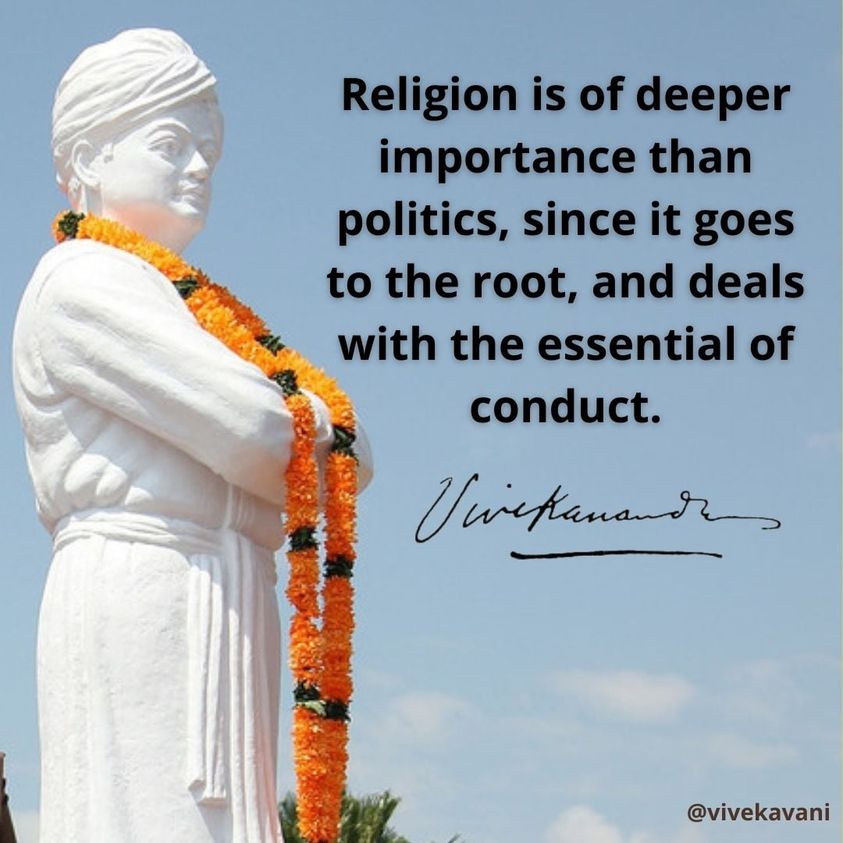 On 27 September 1894, in a letter written to Alasinga Perumal, Swami Vivekananda wrote, he was a "politician" or "political agitator"—[Source]

. . . I am no politician or political agitator. I care only for the Spirit — when that is right everything will be righted by itself…. So you must warn the Calcutta people that no political significance be ever attached falsely to any of my writings or sayings. What nonsense I . . . I heard that Rev. Kali Charan Banerji in a lecture to Christian missionaries said that I was a political delegate. If it was said publicly, then publicly ask the Babu for me to write to any of the Calcutta papers and prove it, or else take back his foolish assertion. This is their trick! I have said a few harsh words in honest criticism of Christian governments in general, but that does not mean that I care for, or have any connection with politics or that sort of thing. Those who think it very grand to print extracts from those lectures and want to prove that I am a political preacher, to them I say, "Save me from my friends."
In an interview published in the San Francisco Examiner, dated 18 March 1900, Vivekananda told—[Source]

I do not wish to talk of politics.
I do not wish to discuss politics.
On 9 September 1895, in another letter written to Alasinmga from Paris, Vivekananda clearly told—[Source]

I will have nothing to do with cowards or political nonsense. I do not believe in any politics. God and truth are the only politics in the world, everything else is trash.
Religion and politics
From India and England, Complete Works, Volume V—[Source]

Religion is of deeper importance than politics, since it goes to the root, and deals with the essential of conduct.
The quarrels of politicians are very curious.
It will take ages to bring religion into politics.
Politics — not the country's (India) subject
Swami Vivekananda felt politics is not India's subject. He told—[Source]
If you will come to India and talk with the workman in the field, you will find he has no opinion on politics. He knows nothing of politics. But you talk to him of religion, and the humblest knows about monotheism, deism, and all the isms of religion. You ask: "'What government do you live under?' and he will reply: 'I don't know. I pay my taxes, and that's all I know about it.' I have talked with your labourers, your farmers, and I find that in politics they are all posted. They are either Democrat or Republican, and they know whether they prefer free silver or a gold standard. But you talk to them of religion; they are like the Indian farmer, they don't know, they attend such a church, but they don't know what it believes; they just pay their pew rent, and that's all they know about it — or God."
No amount of politics would be of any avail until. . .
From an article published in the Madras Times, in February 1897—[Source]
No amount of politics would be of any avail until the masses in India are once more well educated, well fed, and well cared for.
My Life and Mission
From a lecture delivered at the Shakespeare Club of Pasadena, California, on 27 January 1900—
India is no longer a political power; it is an enslaved race.
The Indian nation never will be a powerful conquering people — never. They will never be a great political power; that is not their business, that is not the note India has to play in the great harmony of nations. But what has she to play? God, and God alone. She clings unto that like grim death. Still there is hope there.
In England or in America, if you want to preach religion to them, you will have to work through political methods — make organisations, societies, with voting, balloting, a president, and so on, because that is the language, the method of the Western race. On the other hand, if you want to speak of politics in India, you must speak through the language of religion. You will have to tell them something like this: "The man who cleans his house every morning will acquire such and such an amount of merit, he will go to heaven, or he comes to God." Unless you put it that way, they will not listen to you. It is a question of language. The thing done is the same. But with every race, you will have to speak their language in order to reach their hearts. And that is quite just. We need not fret about that.[Source]
More quotes and comments on politics